By Eddie Ssejjoba Added 26th February 2018 04:36 PM
PIC: The site where excavations are taking place. (Credit: Eddie Ssejjoba)
CONSTRUCTION
KAMPALA – The Kampala Capital City Authority (KCCA) has intervened in a row over an underground excavation on a construction site on Luwum Street in Kampala.
This was after tenants and owners of neighbouring buildings feared the ongoing works might weaken their premises.

Godfrey Kirumira, the chairperson of the Kwagalana Group and owner of City Centre Complex, and Henry Lubwama, the owner of a neighbouring commercial building, ran to KCCA and appealed for immediate intervention.

The businessmen complained that their colleague, Guster Lule alias Ntakke, who is excavating earth on Plot 10 for the construction of a 13-floor commercial building, had put the lives and property of their tenants at high risk.

Kirumira complained that the excavators had dag deep and too near into his building, exposing the foundation. He said water pipes and other installations were affected, including a nearby public toilet.

Kirumira's son and manager of his properties, Gideon Kibuye Kirumira, confronted the site engineer, Eng. Edward Lule and asked him to halt any further works until KCCA engineers visited and approved of the ongoing constructions.

"We previously lost Mirembe Arcade on Nasser Road after our neighbour started making deep excavations without alerting us, we do not want a repeat of such scenarios," Kabuye stated.

Lubwama said he was surprised that the site engineer had no insurance cover, just in case there was any damage on their buildings or deaths as a result of the excavations.

"We demand that you halt the excavations until you produce insurance cover and other documents as proof that you went through all the due processes to do works here," Lubwama told the site engineer.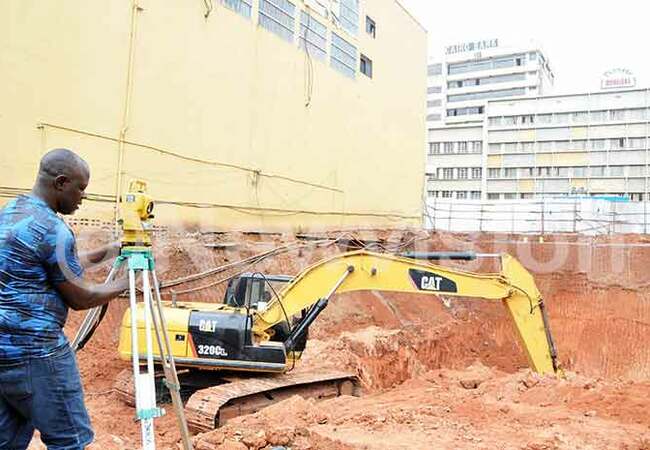 Eng. Edward Lule at the site
Eng. Lule, however, explained to the tenants and owners that he had taken the required steps and conditions in carrying out the works.

He said he had left space of six metres on either sides and had followed KCCA conditions for the safety of life and property of neighbours.

"Our neighbours are complaining that the ongoing excavations had not followed the right methodology and safety guidelines but those are just fears, I have asked them to remain calm," he said.

Lule said although they had started excavations before securing an insurance cover as required, he had asked the insurance company to speed up the process.

The KCCA spokesperson, Peter Kaujju, said the site had obtained the necessary approvals. He said the KCCA personnel from the planning unit were also supervising the site and had assured him that the buildings would not be affected.

"The owner of the site made the applications for demolition and obtained a plan for the new structure, which were approved and given," he said.